Thesis Topics
A Collection of Possible Thesis Topics Relating to Springfield, Ohio
For the past several years, I have been attempting to gather a list of potential history thesis topics for local college students. I find that students often research and write on broad national themes without knowing that there are equally relevant -- and sometimes more dynamic -- local stories that have never been examined. It is a win-win when students write on local topics. We benefit from their research and findings, while they are provided a richer experience working with primary source materials in local archives and libraries. In addition, local topics give students opportunities to present their work to audiences outside of academia. Below is a list of topics that have been identified by a team of local historians. These topics are intentionally broad. It is the responsibility of the student to narrow a topic into a manageable study. To aid this process, most of the descriptions contain a series of questions as examples of how the topic could be focused. All descriptions contain a quick summary of primary source materials (newspapers, photographs, letters, paintings, maps, etc.) that are available in local archives and libraries. I will periodically revise and add to this list, so please visit this page for the most up-to-date information and list of topics. If you have a topic to suggest, please pass it along.
Students: These topics vary in their level of difficulty. Some topics contain an overwhelming amount of primary source material, which is both a blessing and a challenge, while others will offer little outside of period newspapers articles. Some topics relate to popular national subjects and will require a copious amount of time reading for your historiography. For others, you will need to cast a broad net to find published studies that even somewhat relate to the topic (as was the case with my college thesis). It is your responsibility to examine some of the primary and secondary materials before deciding to commit to the task. If you decide to work on one of the topics identified below, I ask that you please send me a note to let me know, as well as a copy of the paper once it is finished. If you need any guidance, do not hesitate to contact me. My information is available on the "About" page. Good luck.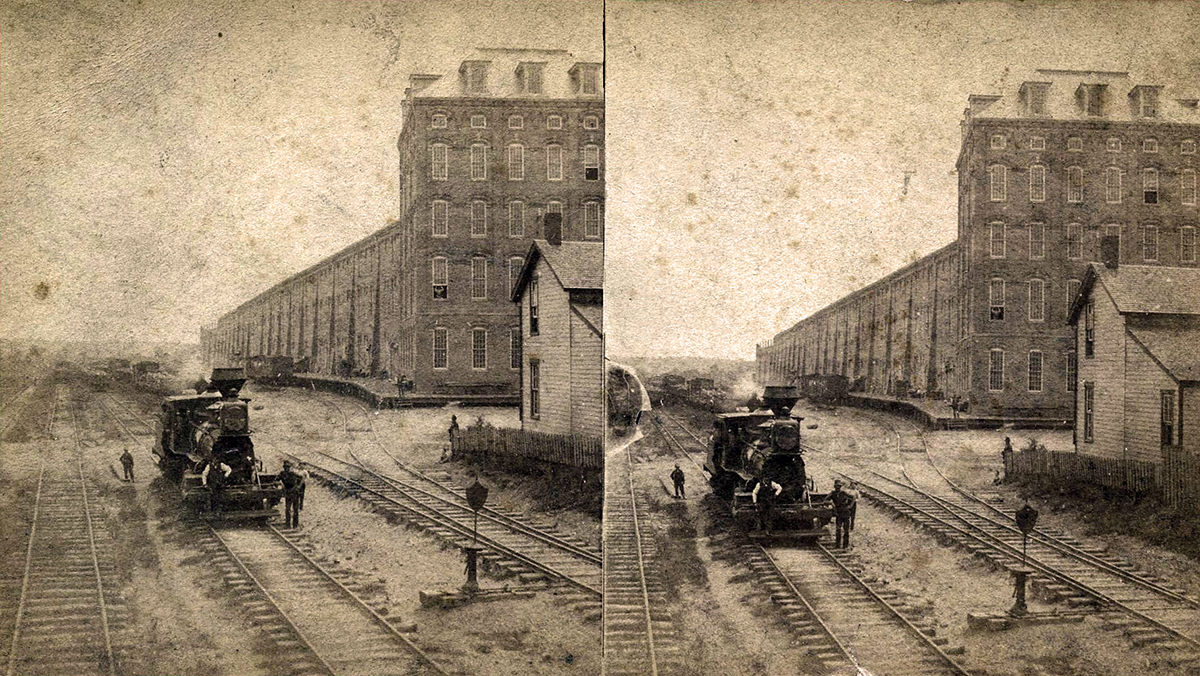 Sterioview of the railroad along the side of the East Street Shops, circa 1881 (Turner Archive)
Council-Manager Form of Government
The adoption and subsequent implementation of the Council-Manager (or City Manager) form of government in Springfield offers an interesting study in Progressive Era reform. This system, where a manager is hired to oversee the administrative functions of a municipality, originated in its earliest form in Staunton, Virginia in 1908. Cities favored the system, in part, because they believed it lessened the possibility for graft and other types of corruption. Springfield became one of the earliest cities to adopt the Council-Manager plan in 1914, hiring pioneer city manager Charles E. Ashburner away from Staunton, Virginia. That same year, the International City Managers' Association held its initial meeting in Springfield. Only 32 local governments in the United States and Canada had adopted the system at that time. Locally, the system faced a serious challenge in 1920 after a highly-publicized corruption scandal, followed by the 1921 Race Riot that rocked the city. What local issues led the City of Springfield to adopt the Council-Manager form of government? Did the system met the ideals that were presented at the December 1914 meeting of the International City Managers' Association? Local sources include newspaper articles and government records.
The Paintings and Possessions of Local Victorians
The Catalogue of the Art and Loan Exhibition of the High Street M.E. Church from 1880 offers a fascinating look at the possessions and collections that structured identity and status in Victorian America. Objects were grouped into eight categories (Relics, Fine Art, Ceramics, Bric-a-Brac, Needle Work, Books, Numismatics, and Geology and Natural History) and included Egyptians idols, battle flags, and paintings by significant American artists. What does this exhibition tell us about the collecting habits of Victorian Americans? How was it used to create agency among Springfield's wealthy industrial families? How does this compare with similar types of exhibition in other cities? In addition to the exhibition catalog and contemporary newspaper articles, numerous two-dimensional and three-dimensional primary source materials are available.
Mother Stewart and the Local Prohibition Movement
Eliza Daniel "Mother" Stewart (1816-1908), a Springfield resident for most of her life, was an important national temperance leader in the late nineteenth century. In the 1870s, she organized the first Women's Temperance League and played an important role in the establishment of the Women's Christian Temperance Union. Her local 1873 campaign, targeted in part at the fashionable Lagonda House Hotel, offers an interesting study of her motives and techniques. How was Mother Stewart portrayed by newspapers and magazines across the country? What role did she serve in the larger national and international movements? Various primary and secondary source materials are available locally, including period newspapers and her book Memories of the Crusade, a Thrilling Account of the Great Uprising of the Women of Ohio in 1873, Against the Liquor Crime (Columbus: Wm. G. Hubbard & Co., 1888).
The Contested Senatorial Election of 1890 – John H. Thomas and Calvin S. Brice
In 1890, wealthy Springfield industrialist and prominent Ohio democrat John H. Thomas garnered national attention following his U.S. Senate primary election loss to Calvin H. Brice. Thomas cried foul believing that he deserved the seat due to his generous financial support of, among others, State Congressmen W.T. Eggerman. Although it appears that Thomas was attempting the buy the election, he claimed that Brice was also buying votes. This is a great example of corruption in senatorial elections prior to the adoption of the 17th Amendment in 1913. Possible questions include: How does the Thomas-Brice affair compare with the types of corruption highlighted during the campaign for the 17th Amendment? How did Republican and Democratic newspapers differ in their coverage of this election? Great articles in leading national newspapers, as well as local newspapers, detail this story from many angles.
The Fight for Fulton School
Springfield's rapid population growth, due in part to the influx of poor southerners during the first Great Migration, necessitated the opening of three new schools in 1920. School superintendent George E. McCord informed African American women attempting to apply for teaching positions that he could not hire them because only white teachers could work at non-segregated schools. These women began to advocate and petition for the establishment of an all black school, which the school board granted in May 1922 by segregating Fulton School. With political conflicts rendering the NAACP powerless, a group called Civil Rights Protective League emerged that July to mobilize an opposition. After weeks of picketing and protests, the courts found the decision to segregate the school uncontitutional. The following year, a raid on the Ku Klux Klan headquarters exposed Superintendent McCord and several school board members as a clansmen. Possible questions include: What local events influenced the decision to segregate Fulton School? How did the method employed by the Civil Rights Protective League compare with other protests across the country in this period? How does this case illustrate differing viewpoints on segregation within the local African American community in 1920? What were the longer term impacts of the segregation of Fulton School?
The Geiger Daughters at early Wittenberg
The daughters of Nancy and Hezekiah Geiger were among the first women to enroll at Wittenberg College after the institution voted to become co-educational in 1874. Their father, a founding professor at the college, had pushed the board for the change, presumably so his daugthers could attend college. In 1879, Alice Geiger became Wittenberg's first female graduate, followed by her sisters Lizzie in 1880 and Anna in 1883. What were the experiences of these early female students? How was this change in policy covered by campus and community newspapers? The Wittenberg University Archive contains great primary source materials relating to these three women's struggles for acceptance at a rapidly evolving campus.
Who Killed Davey Moore?
Bob Dylan's 1963 song "Who Killed Davey Moore?" begins, "Who killed Davey Moore, Why an' what's the reason for? 'Not I, 'says the referee, 'Don't point your finger at me.'" A paper on this topic could explore whether the 1963 death of local boxer Davey Moore was a consequence of the brutality and violence of boxing or the social disenfranchisement of African-Americans during the 1950s and 1960s. What effect did this fight have on the future of professional boxing in America? Local sources would include period newspapers of the fight, as well as possible interviews with friends and family members.
The Champion City Led the World
Springfield newspapers claimed that Springfield manufactories led the world in the production of farm machinery in the 1880s, toping even Cyrus Hall McCormick and Chicago's implement industry. Although exact figures have not yet been found, it is certain that Springfield was a leading producer of implements from roughly 1865 to 1900. Few histories, however, examine Springfield's role in this vital industry. Possible topics are plentiful, although an examination of the failed harvester merger of 1890, which would have been headquartered in Springfield, may offer the best source material. Possible questions include: What led to the rapid growth of this industry in Springfield between 1865 and 1880? What percentage of the local economy was directly connected to the production of agricultural implements in 1880? What led to the collapse of the American Harvester Trust merger in 1890?
Symbolism and Identity in Early Advertising Posters
Manufactories like Whitely, Fassler & Kelly, Superior Drill, and P.P. Mast & Company were adept at marketing their agricultural implements using trade cards and posters. These materials were circulated by traveling sales associates and distributed at field trails and fairs (including the 1876 and 1893 World's Fairs). Posters, trade cards, and other marketing ephemera are valued artifacts, as they provide tangible evidence of the tastes and aspirations of the people who produced and used them. Possible questions include: How did these advertisements change between the 1876 and 1893 World's Fairs? How did local advertisements for the companies producing Champion Harvesting Machines compare to those produced by the McCormick Harvesting Machine Company in Chicago. Primary source material is plentiful, including records at local, state, and national archives.
Immigrant Workers in the Champion City
The growth of the Champion Interests in the 1870s precipitated an increase in the Irish and German populations in Springfield. These immigrants flooded "The Hill" neighborhood surrounding the factories, creating a mixed ethnic enclave known first as "The Boot" and later as "Irish Hill". Census data from 1870 and 1880, coupled with select newspaper research, will provide interesting insights into the social history of these often disparaged and simplified populations. Possible questions include: What percentage of first or second generation Irish lived in Irish Hill? What work opportunities existed for these residents? How are the Irish depicted in local newspapers? How does local data compare with larger national studies? Sources include census data from 1860, 1870, and 1880, as well as period newspapers and trade publications.
Patriotism and the Restoration of the Pennsylvania House (1938-1941)
The Lagonda Chapter Daughters of the American Revolution's 1938-41 campaign to save the Pennsylvania House had strong nationalistic undertones. Their 1940 brochure, under the title "Perpetuate Americanism", read in part, "Demonstrate your Loyalty to American Ideals and Traditions by Contributing to the Restoration Fund Campaign." Possible questions include: How did the DAR appropriate and commodify American history in the preservation and interpretation of the house? How did this project reflect the national mood on the eve of American involvement in World War II? Local sources could include period newspapers article, collection inventories, photographs of the house's interior, as well as possible interviews with current or former members of the chapter.
Arrival of the Little Miami Railroad
In the 1830s, Springfield was selected as the terminus for two of Ohio's earliest railroads: the Mad River and Lake Erie Railroad and the the Little Miami Railroad. On August 11, 1846, the first train car arrived from Cincinnati on the Little Miami Railroad, ushering in an era in which Springfield had an easy link to markets as far away as New Orleans. The arrival of the Mad River and Lake Erie Railroad two years later officially connected the northern and southern halves of Ohio by rail. Possible questions include: How did these events impact the demographic and cultural growth of Springfield in the decade following their arrival? How did Springfield's growth in the 1850s compare with similar communities that lacked rail connections? Local sources include original 1840s newspapers (not microfilmed), railroad publications, and census data.
Jessie Good and the Movement for Civic Improvement
In the late 1890s, Springfield horticulturalist Jessie M. Good penned a series of illustrated articles on the positive influences of improvement societies for Home and Flowers, a national magazine published locally by D.J. Thomas. After an outpouring of encouragement, Jessie Good and the magazine organized a convention of civic improvement leaders in Springfield on October 10, 1900. These participants voted to form the National League of Improvement Associations, the first national organization devoted exclusively to civic improvement. Possible questions include: What impact did the NLIA have on cities like Springfield? What role did Jessie Good play in this Progressive Era movement? What role did gender play in the organization and management of these societies.
Ben Hartman's Interpretation of American History
In 1932, while the nation was in a patriotic fervor celebrating the 200th anniversary of George Washington's birth, Ben Hartman began creating what he called his "historical rock garden". Using concrete, stone, and other found materials, Ben constructed a garden that was aimed, in part, at illustrating American history. This included representations of the Betsy Ross House, Mount Vernon, Valley Forge, Battle of Little Bighorn, and Lincoln's Cabin (to name just a few). Possible questions include: How did Ben's interpretation of American history compare with contemporary teachings in social studies textbooks? What types of stories did he include? What stories were excluded? How did his interpretation compare with similar environments across the country? Local sources include 1930s social studies textbooks, contemporary newspaper articles, articles from national magazines, and artifacts from the garden.