Historic Modern: Key Bank at Fifty
Alfred Shaw's Springfield Savings Society and Commercial Bank (now Key Bank) in downtown Springfield, Ohio, opened to the public on August 12, 1961 - fifty years ago today. This sleek two story glass and marble design was in stark contrast to the neighboring Victorian structures and redefined the downtown experience in a positive and powerful way. While Springfield could already celebrate many noteworthy modern designs by 1961, this contrastive element in the downtown urban landscape was the strongest statement yet that modernism was here to stay.By the late 1950s, Shaw had made a name for himself in Chicago architecture circles (which was home to some of the best architects in the world, including Ludwig Mies van der Rohe, Bruce Graham, and Bertrand Goldberg). Shaw grew up on the east coast and studied architecture at the Boston Architectural Club from 1911 to 1917. After working for firms in Boston and New York, he took a job in Chicago in 1927 with Graham, Anderson, Probst & White. During his time at GAP&W, he helped design three significant Chicago landmarks – the Merchandise Mart (1928-1930), Civic Opera House (opened in 1929), and Field Building (opened in 1934). Although a junior partner at GAP&W, Shaw left in 1937, at the age of 43, to establish Shaw, Naess & Murphy (later Shaw, Metz & Dolio, then Shaw, Metz & Associates). Over the next thirty plus years, his firm designed many noteworthy Chicago buildings, including the McCormick Place Convention Center (1960), United of America Building (1961), Morton Wing of the Art Institute of Chicago (1962), and Continental Plaza Hotel (1964). Unfortunately, little is known of his other designs outside the Chicagoland area.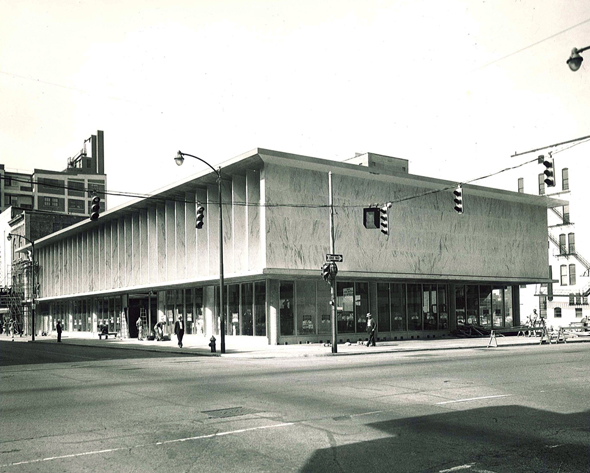 When the Springfield Savings Society and Commercial Bank announced their plans in 1959, president Donald Wiegel stated, "The completed plans cap several years of research into Springfield's future as well as the future of Clark and surrounding counties, with a view to making available the most modern and complete banking services essential to a progressive era... The new structure will feature prominent areas of glass and white stone. Broad sidewalks, trees, and shrubbery surrounding the building will create a plaza effect. The interior will be arranged to offer the ultimate in complete banking service to our customers, both in convenience and efficiency.
"Shaw's completed design, opened two years later, consists of two main levels separated by a reinforced steel canopy. The second level, composed of heavy Vermont marble and glass, seems to effortlessly float above the mostly glass ground floor. On the main facade's upper half, Shaw employed thirty-three marble fins, each 17 feet in height and weighing nearly 2,000 pounds, as a vertical interruption to the structure's mostly horizontal flow. In Shaw's original conceptual design, he wrapped these vertical fins around the building's three elevations, although this idea was abandoned in later models. The completed design instead combines these prominent vertical fins with flat squares of Vermont marble. The upper half of the building's north elevation is all marble - 68 marble squares - and the rear elevation is a combination of flat squares on the outside thirds and fins in the middle. Shaw covered the entire expanse of the north facade's lower half with a concrete wall of repetitive geometric shapes (visible in the image below). This feature was unfortunately removed in later years.
The building's original open interior mixed marble, glass, carpet, aluminum, terrazzo, and dark walnut woodwork. F.W Olsen, a partner in Shaw's office, noted that the interior of the building, "had been warmly tempered... by the wide use of dark walnut wood in desks, doors, and woodwork." The bank boasted of their new open arrangement, "Now we have the new physical plant that we believe will meet the requirement of this progressive era. The floor plan of the main banking area emphasizes the Banking Center's guiding principle of staying close to the people it serves... A visitor can find any officer he wishes to see by glancing about him. Conference rooms are available for transactions when needed, but these take a back seat when the bank desires to make personnel available to those seeking service, and this is the philosophy whenever the banking rooms are open." Much of the bank's original interior fabric has been altered or removed over the past fifty years.
The bank was perhaps most proud of its new parking capacity and state of the art drive-up windows. In an advertisement weeks after the opening, underneath a photo of their parking lot and the headline "Doing What Comes Naturally," they state, "Your neighbors are taking advantage of Springfield's newest banking convenience... The Banking Center is filled with new ideas and services to make your banking both profitable and a pleasure." While the buildings main elevation is clearly pedestrian oriented (before the sterile reflective glass of the 1970s) and urban, the rear is unmistakably suburban with a forty car landscaped parking lot and three angled drive-up windows (These drive-up windows are a fascinating case-study in automobile convenience - customers would park their car in one of the three spaces, transact their business face-to-face with a teller, and reverse out of the space to leave).
In a special dedication section of the Springfield News-Sun in August 1961, a William Bayley Company advertisement called the bank a "Symbol of the Future of Springfield." Today, fifty years later, this radical addition to the downtown streetscape is perhaps less appreciated than it was in 1961. Later Skidmore, Owings & Merrill designed buildings and needless unrepurposed demolitions decimated the historic character and energy of downtown, and, in many ways, this bank has come to embody this radical transformation. In reality, Shaw's design supported a experiential, pedestrian friendly, and engaging renewal of the core. Its two facades equally supported the duality of urban areas in a modern age - pedestrian and automotive. As downtown Springfield embarks on a new regeneration in the 21st Century, it is my hope that Alfred Shaw's landmark design will again find its place and appreciation in this changing urban landscape.